Friday, March 1, 2019
Opportunistic Approach Roedel Companies Continues To Grow Franchised Portfolio In Markets That Make Sense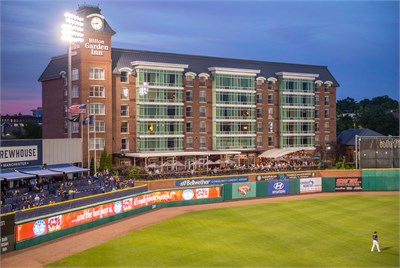 By Kerry Medina
Hotel development is a family tradition for Fred B. Roedel and his sons. The patriarch was the former owner of the Susse Chalet brand, which he began with a single property in Nashua, NH in 1968 before selling the 36-property portfolio to Olympus Real Estate Trust in 2000.
Today, he serves as a majority board member at Roedel Companies, which he owns alongside his sons David and Fred B. Roedel III, business development officer and chief financial officer, respectively. Unlike the former Susse Chalet brand, which owned and operated the bulk of its portfolio, the current business—a portfolio comprised of 13 hotels, three event centers and three restaurants—operates nationally franchised brands.
"The fundaments of hospitality remain the same—it starts with location, brand, quality and price," said David Roedel, who worked for his father from 1996 to 2000 on new acquisitions and real estate permitting. "But instead of our own brand, we franchise with the national players: Hilton; Marriott; and InterContinental Hotels Group (IHG) and that's certainly a major change from Susse Chalet."
Although the Roedel stable of properties does include two Navy BOQ properties—one in Connecticut and another in Rhode Island—the company's sweet spot is select-service hotels. Hilton Garden Inn (HGI), Courtyard by Marriott, Holiday Inn Express, Holiday Inn, Hampton Inn and Homewood Suites by Hilton all contribute to Roedel Companies' success story. In fact, the company is making its first foray into the all-suites category in the first half of this year when it opens a Homewood Suites by Hilton in Marlborough, MA.
"We feel Marlborough is a strong market and there's only one all-suite property there that's performed incredibly well since opening in 2006," David explained. "So by bringing another all-suites hotel to that market, we expect it to perform at the same level or better because the market is underserved by all-suites lodging."
Homewood was selected because the brand is a direct competitor to the destination's existing all-suites' brand. But it also exemplifies how Roedel Companies selects a given brand for a given location. Working with three major international hotel brands, the business development chief employs market data as well as stats on competitive sets along with existing brands in the market and available brand to select the flag that will best fit the market and drive the most return. He added, "I look at what's the best and most logical brand for the market, which customers are missing and which of their needs aren't being met."
The answers to those questions haven't always led the business development chief to answers that would be perceived as logical. Roedel Companies opened the Hilton Garden Inn in downtown Manchester in 2006 after noticing that hotel development was spiking near the airport, but a new-build hotel hadn't opened in the city center in over 25 years. There was pushback from the city. Or in David's words, "people thought we were crazy, but it's worked out."
Similarly, the company strayed from the select-service model with New York's Hotel Saranac, part of Curio Collection by Hilton. The historic property reopened as an independent hotel in 2018 after major renovations transformed the hotel from what David described as "ridden into the ground" to an upper-upscale property restored to its original splendor. "We also felt we needed to be tied to Hilton's reservation engine in order to mitigate risk," he added.
Back in the select-service arena, Roedel has achieved continuous gains by acquiring properties that have an adjacent event center. The strategy began in 2013 when the family office acquired the 239-room Courtyard by Marriott in Nashua, NH along with an adjoining 14,000-square-foot events center—permanently closed under Host Hotels ownership—that was ultimately renovated, rebranded and marketed as a separate entity from the select-service property. "The return on our Nashua property has been enormous and so we did the same at the La Quinta Inn & Suites in Manchester, New Hampshire," David explained.
In fact, the Falls Event Center that adjoins the La Quinta Inn & Suites in Manchester attracts so much business that the hotel will be converted to a Hampton Inn by Hilton immediately after the 2020 New Hampshire primaries. A similar strategy will likely be implemented for a new-build Hilton Garden Inn in Canton, MA, where the asset included a concept restaurant and event space that are unaffiliated with the brand.
"Even though the HGI also has meeting space, we find that if we can locally market event space separate from our hotel meeting space, it does better," he said.
However, these success metrics are by no means the benchmark used to evaluate the potential returns for future projects. As he's personally investing in and signing guarantees on loans for new projects, Roedel's business development officer isn't looking at markets like Portland, ME; Burlington, VT; or Boston where's there's already an oversaturation of inventory.
When asked if New York City is on his radar, David said "we're motivated by free cash flow, return on investment (ROI) and room numbers, there's no pressure to expand." He calls himself a conservative deal junkie, noting that "you can only stay in this business with ROI," while also acknowledging that the company's most significant growth occurred during the last recession.
"We hope the next recession isn't until 2022 and that we never see a 17 percent downturn in RevPAR again and I don't think we will," he said. "But we'll be in a position during the next three to four years to buy [new] opportunities and to renovate our existing properties."
Despite being a family office, Roedel's real estate boss said the company doesn't operate on emotion. He pointed out that "you can't hug a hotel." And while there may be moments when the company may form attachments to their investments, they always look for "the best brands for the property and the market."
View All News