Hotel Saranac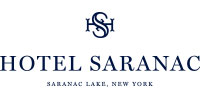 At A Glance
Hotel Saranac, Curio Collection by Hilton, is an iconic landmark in the micro-politan village, Saranac Lake, NY and has been thoughtfully renovated while maintaining its historic charm and fascinating architecture. 102 guestrooms and suites mix past and present with crown molding, quartz vanities, Smart TV's and other modern amenities.
Hotel Saranac also boasts Campfire Adirondack Grill + Bar, an 'Adirondack-farm-to-table' restaurant, Ampersand Salon and Spa, and a curated gift shop, Academy & Main. Over 6,000 square feet of versatile event space, including modern boardrooms and a historic grand ballroom make Hotel Saranac perfect for meetings and special events.
General Manager: Jacob Kipping Team Member since 2018
Director of Sales: Myra Rondeau, Team Member since 2022
Executive Chef: Mike Rush Team Member since 2021
Spa Director: Jamie Costa, Team Member since 2017
Retail Manager: Michelle Hill, Team Member since 2017
Year Re-Open: 2018
Number of Rooms: 102
Onsite Dining: Campfire Adirondack Grill + Bar, The Great Hall Bar
Onsite Spa: Ampersand Salon & Spa
Retail: Academy & Main Boutique
Historic Renovation (ROK Builders), Hotel Management (RGH Hospitality), Interior Design (RSJ Associates)
What We Did
We successfully applied for and received a New York State Grant to assist us in the restoration of this historic hotel in the Village of Saranac Lake, NY. The Hotel Saranac first opened in 1927 as a modern, urban hotel placed in the center of an iconic Adirondack town. Over the years, every special event was held at the hotel creating generations of memories.
Unfortunately, the hotel fell into disrepair prior to our acquisition and it took millions of dollars and multiple years to restore its original layout while adding the modern, contemporary flair our "explorer" guests demand. Today, the hotel is part of the prestigious Curio by Hilton Collection offering full resort amenities. The hotel was reopened and "returned" to the Village in 2017.